February 9 - April 2, 2023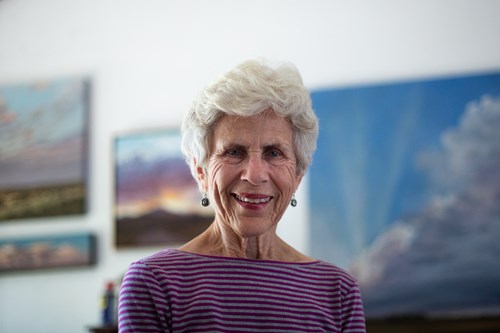 "At this point in my life, I am primarily a landscape artist. Having lived in Victoria for many years, where the  actual "land" consists of a shallow, flat horizon, I have found the skies to be the most exciting aspect of the area, so much of my work  could be more accurately labeled "skyscapes." The constantly changing and often dramatic skies of the crossroads region present challenges in design, color, space, and expression. A successfully finished work creates a feeling of change, movement, and, hopefully, an evocative mood for the viewer."
"I graduated from the University of Kansas and received a Master of Arts degree from the University of Iowa. Thirty-one years of teaching experience, including being in the art faculties of Lamar University, Beaumont, San Jacinto College, Pasadena, and Victoria College. My focus for some years was in printmaking, but I have gradually transitioned to working in pastel, oil, and collage."
"I have exhibited in numerous competitive exhibits and had several one-woman exhibitions. Many private individuals own my work. It is in collections of IBM Corporation, Round Rock, Texas; Victoria Country Club, Victoria, Texas; Teacher Retirement System of Texas in Austin; Citizens State Banks in Ganado and Edna, Hospice of South Texas Inpatient Center and Victoria College."
SPONSORED BY
The Nave Museum